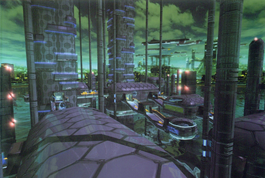 The VR Spaceship is the second area of Episode 2. Similar to VR Temple, it is a virtual-reality environment designed by The Lab to test the skills of potential hunters seeking work with the government to investigate Gal Da Val Island. The monsters inhabiting this realm are virtual copies of their real-world Ragol counterparts from the Forest, Caves, Mines and Ruins areas from the previous episode, albeit with slight differences in stats and in some cases attacks.
Simulated Monsters
Normal-Very Hard
Ultimate
Pan Arms (including Migium and Hidoom)
Delsaber
Gol Dragon (Boss)
Quests
Community content is available under
CC-BY-SA
unless otherwise noted.