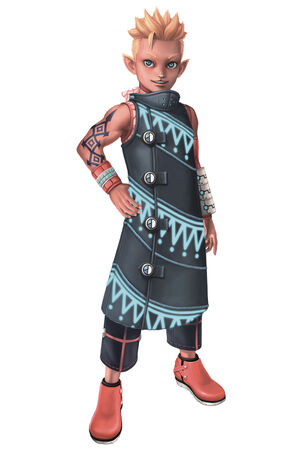 To a human, he appears to be a young boy, but he's a fully-grown small beast. Tonnio was raised in an orphanage and formerly led a street gang. After meeting Leo, he turned his life around and joined the GUARDIANS. Still, he has a rough, easily angered, and sometimes uncontrollable personality.
Phantasy star portable 2
"A beast employed by Little wing. He is married to Liina Rhima.
A former of the Guardians Standing Security Division, he also served as an instructor. While he can be abrupt and abrasive, he looks after those in his care and offers good advice.
After marrying Liina, he left the Guardians. Liina had wanted to be able to work together with her new husband, but her past career as a rogue prevented her from joining the Guardians. Some also say that the real reason he left was a distaste for the new Guardians uniforms."
In-game description
On
Phantasy Star Portable 2
, he is married with
Liina Rhima
, and same as her, a mercenary. He is 29 years old now.