Previous quest: Nightfaller General Survey ←→ Next quest: Nightfall Province Exploration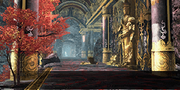 Suppress Kodotta Idihta (Japanese: コドッタ・イーデッタ討伐) is an ARKS Quest in Phantasy Star Online 2 that takes place in the Nightfall Province area of Harukotan.
Quest Monsters
The monsters that have a chance of appearing in this quest are shown below. Underneath their name is their elemental weakness and below that is any other pertinent information.
Nightfallers
Falspawn
Other
Quest Details
Quest Name: Suppress Kodotta Idihta
Quest Objective: Suppress Kodotta Idihta!
Failure Condition: You'll fail if you are defeated in the final area.
Quest Type: ARKS Quests
Quest Details
Location: Harukotan Nightfall Province
Quest Class: Multi-Party Quests
Party Invitation: Allowed
Ally Assistance: Allowed
Conditions for Acceptance: No Level Restrictions
Restrictions
Time Limit: None
Damage Limit: None
Ability Adjust: None
Enemy Information
Suppression Target: Kodotta Idihta
Enemies Present: Orota Bikehta, Itagizakri
Quest Description
NA version: We have confirmed the presence of a powerful Falspawn, known as Kodotta Idihta, in the Nightfall Province of Harukotan. It is possible said Falspawn may be affecting local Nightfallers that are repeatedly raiding the Daybreak Province. All ARKS personnel are ordered to prepare for battle and suppress Kodotta Idihta immediately.
JP version: 惑星ハルコタン、黒ノ領域にてコドッタ・イーデッタと呼称される強力なダーカーの存在が確認された。白ノ領域へ進行を繰り返す黒の民に何らかの影響を与えている可能性がある。アークス各員は準備が整い次第出撃し、コドッタ・イーデッタを迅速に討伐せよ。
Overview
Normal
Hard
Very Hard
Super Hard
Level Conditions
None
Lv. 20
Lv. 40
Lv. 50
Enemy Level
Lv. 20
Lv. 40
Lv. 55
Lv. 70
Scoring System
Enemy Kills Achieved
700 points max
Times Recovered
300 points max
Max Score
1000 points maximum total
See Also
Next Quest
Nightfall Province Exploration
Reward
| | Normal | Hard | Very Hard | Super Hard |
| --- | --- | --- | --- | --- |
| Meseta | 1040 | | | 2260 |
| Experience | 0 | 0 | 0 | 0 |
Videos
Community content is available under
CC-BY-SA
unless otherwise noted.