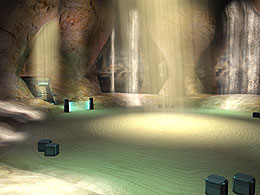 The Subterranean Desert is the second and final area of Episode 4 in Phantasy Star Online: Blue Burst. Taking place in the underground desert below the newly discovered Crater site, this area features Dark enemies hiding among the local wildlife below the surface. The final encounter, doubling as the finale to Phantasy Star Online, is deep within the underground depths against the mutated sandworm, Saint-Milion.
Layout
The Subterranean Desert consists of Subterranean Desert 1, Subterranean Desert 2, Subterranean Desert 3 and the boss. Although this area may not have the long, complex maps seen previously in the Ruins or Seabed, the Desert is unique in that it requires backtracking and simple puzzle solving in order to advance.
Roaming Monsters
Quests
Gallery
Community content is available under
CC-BY-SA
unless otherwise noted.