---
This article is missing some information. You can help Phantasy Star Wiki by expanding it.
---
"There are people ready to give up their lives over this. But that's what the battlefield is all about. If you aren't ready to die, then sometimes you won't get anywhere... But you know what, [NAME]? That last little smile inside all of that can be your final hope. Remember that. ...Yes. That's the era that I live in... and what I believe."
— Saligun to the Commander before the penultimate fight in Great Ambition 1.
Saligun (Japanese: サリガン) is a character in Phantasy Star Online Episode III C.A.R.D. Revolution. She is a former nurse humanoid turned instructor for the Hunter Training Center before she was recruited to the Hunters C.A.R.D. Lab. Two notable students from her time at the facility were Viviana and Memoru before they went their separate ways.
With her knowledge as a former teacher, Saligun will often lecture the Commander with information about creating decks or utilizing cards. She is also the host of the game's official tutorial mode.
Characteristics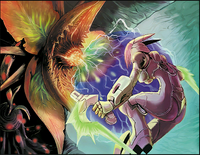 Appearance
Saligun is a petite HUcaseal that has a primarily rose-colored body with white and gray accents. She has a fair complexion, a slightly darker shade of pink hair than her body, and viridian eyes. Her assigned section ID is Bluefull.
Powers and abilities
Saligun is a melee character that has a lower HP pool, but compensates for that with average attack power and a great Move stat. She is decently well-rounded with no real specialty, nor is she able to use technique or technique-boosting cards as a humanoid; however, because she is a humanoid, she will not suffer status ailments like her human and newman companions, which makes her a great scout for maps that could contain traps. Perhaps the one defining ability she can utilize is Low-cost Halfguard, which negates half damage from low cost items or creatures on the field that attack her.
C.A.R.D. information
Saligun's character card can be viewed below. Top color is red. The combo colors on the right of the card are blue, red, orange, and purple.
Card #

Picture

Resistance color

Combo color left




Cost




Combo color right

Rarity

HP

AP

Range

Name

TP

MV

N/A

▬▬▬▬


Saligun

●●●●●●●




▬

▬

▬

▬

N/A
-1
2
0
3

———————————Single target attack
H HUcaseal
Hunter
Humanoid
No Tech

Prevents Abnormal Conditions: Acid, Drop, Freeze, Immobile, Paralysis, etc.

Receive 1/2 damage from attacks by characters that cost 3 or less Action Points.
Quests
Although Sil'fer, Kranz, and Ino'lis are the main characters in the Hunters story arc, Saligun makes an appearance within a few different quests and occasionally speaks. The quests that she appears in are as follows. If she has pre-quest dialogue during the tier, it will be noted on the main story quest entry.
Gallery
References
Community content is available under
CC-BY-SA
unless otherwise noted.