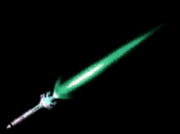 Sabers are a class of weapon that can be used by all character classes. They consist of medium-sized sabre-like weapons that are swung two-handed. They hit once per attack, meaning they can hit three times per combo.
Sabers are staple weapons of any Hunter because they attack relatively quickly and have a good ATP bonus. Most sabers carry an ATP requirement to equip.
As with all weapons, males and females have different attack animations. Many players prefer the male saber animation as it is more aggressive and pushes the enemy farther back.
Standard Sabers
Image
Name
Rarity
Req.
ATP
ATA
Max Grind
Saber
0

★

30 ATP
40-55
30
35
"A sword with a Photon blade. Attacks 1 enemy."
Brand
1

★

90 ATP
80-100
33
32
"A sword with good accuracy and power."
Buster
2

★

155 ATP
120-160
35
30
"An extremely high performance sword."
Pallasch
3

★

233 ATP
170-220
38
26
"A superior sword usable only by masters."
Gladius
4

★

296 ATP
240-280
40
18
"An exceptional sword. Has amazing power."
Rare Sabers
9

★

Rarity
10

★

Rarity
11

★

Rarity
12

★

Rarity
DB's Sabers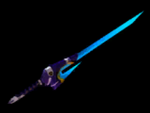 The DB's Saber series of weapons all have the same name upon finding them but each have unique stats, rarity, flavor text, and drop source. The weapons in this series include:
Community content is available under
CC-BY-SA
unless otherwise noted.