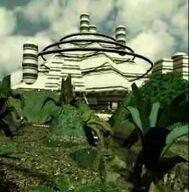 Pioneer I was part of the Pioneer Project that was launch to find a new hospitable world for the people of Coral to colonize. It traveled to Ragol carrying the first wave of refugees to Ragol. There, they began to establish the first forms of civilization on the planet, starting with the creation of the Central Dome. Seven years later, while making preparations for Pioneer II to land on the surface, a large explosion created by Dark Falz rocks the surface of the planet, causing all communications with Pioneer I and the Central Dome to be lost.
Among the refugees whose connection was lost in the explosion was Rico Tyrell, or Red Ring Rico - daughter of the Principle of Pioneer II.
Community content is available under
CC-BY-SA
unless otherwise noted.