Welcome to the Phantasy Star wiki!
If you are interested in getting started helping us fill out pages, check out our extensive To Do list. If you need help with other aspects of the wiki, take a glance at our Help category or feel free to contact an admin.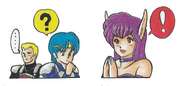 Created in 2007, this wiki is all about the Phantasy Star games and series, containing information of particular interest for players and fans of both the classic role playing games and recent online RPGs.
Phantasy Star spans almost 30 years of games for nearly all systems. Beginning on the SEGA Master System, later games were made for the PlayStation Portable, PlayStation 2, Xbox, and Windows PC.
We are still growing, so pardon our dust while we continue to edit pages for clarity over time. If you discover a page that needs serious expansion or sections with stubs that you have information about, feel free to join our community and add your knowledge! Even small edits are precious to us. As said by MDashK, "The only thing necessary for lost data to prevail, is for good men to share nothing."
The Phantasy Star wiki strives to become the most comprehensive guide to everything Phantasy Star. As such, we do not condone piracy or plagiarism of existing information from other websites of any kind. Anything with a watermark from a fan site or blatant copying of text from a database will either be deleted or flagged for a complete rewrite upon its discovery.
While fan art is great to bolster interest in a community, we will only allow fan art if the user puts it on their wikia talk page and if the fan art in question was created by the user who uploaded it. Fan art of any kind is not allowed on pages about the official video games and it will be deleted immediately upon being discovered. Watermarks from official video game news websites such as 4gamer or IGN are fine since they were given permission to upload previews to the latest games by the developers themselves. However, please limit the amount of these images to a minimum.
If a fan site discovers an image of theirs that they do not approve to be on the wiki or suspected blocks of text that may have been copied, feel free to leave a message on an admin's talk page and we will see if we can sort out the problem. Likewise, if there are any questions or concerns about what constitutes plagiarism, feel free to contact an admin.