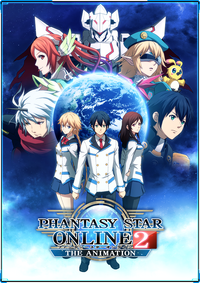 Phantasy Star Online 2 The Animation is a syndicated anime adaptation of 2012's free-to-play online RPG, Phantasy Star Online 2. The series premiered on Japanese television networks on January 7, 2016. The legal streaming website, Crunchyroll, acquired the rights to simulcast the episodes with subtitles to the North American audience one day later on January 8, 2016.
The series takes place approximately one year prior to the events of the video game's expansion, Phantasy Star Online 2 Episode 4: Reborn.
Story Synopsis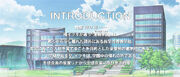 The year is 2027. In modern day Tokyo, people can freely enjoy use of the internet as a result of the widespread availability of the Ethernet across the world. In all aspects, this is considered a modern communication revolution.
The revolutionary cloud operating system, known as ESC-A, has spread wildly among Japan's youth along with the internet. The video game software that comes preinstalled on the OS is Phantasy Star Online 2, known colloquially as PSO2. Although a critical success and testament to the modern era's communication revolution, the game is currently under the review of Seiga Academy and is in danger of being banned for negatively affecting students' grades.
Rina Izumi, president of the academy's student council and "once in a decade stand out student," is on a mission to provide counter evidence to prove that PSO2 does not cause students to neglect their studies. She recruits Itsuki Tachibana, a typical student that makes average grades, as vice president in order to be her prime affirmation to this stance by having him write daily reports on his findings in PSO2, while also maintaining his grade point average, attendance, and fulfilling responsibilities that come with being a member of student council.
Characters
---
SPOILER WARNING
This section contains plot or ending details which could spoil the game for those who have not completed it.
SKIP SPOILERS SECTION
---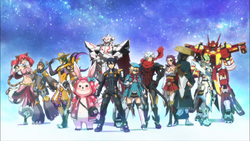 There are seventeen different characters in Phantasy Star Online 2 The Animation. Although not all are pictured, the main characters are, starting from left to right:
OrgaCats: An excitable female hunter that wields a double saber in combat. She ends her sentences with "nya." She is typically seen accompanying Master Nezumi.
Master Nezumi: The relaxed partner to OrgaCats. Master Nezumi wields an Imperial Pick. She and OrgaCats are coworkers in the real world.
Musashi/Yutaka Sasaki: Very shy and often overshadowed in the real world, Yutaka, known to Itsuki as Yu-Chan, has a hidden side to him that is seen as trollish to the people of Phantasy Star Online 2.
Lilika/Mika Konoe: Mika is a member of student council. She has many opinions and and she is not afraid to speak them in order to win President Rina's undying approval. In the game, she plays in a pink Lilipan costume.
SORO/Rina Izumi: The president of the student council and Seiga Academy's "once in a decade stand out student." Seemingly perfect in all aspects, she often plays PSO2 alone due to her lack of communication skills. This has earned her character the nickname, Mr. Aloof.
Itsuki Tachibana: The main character of the series. He was formerly an average student until he became involved with the student council. This would lead him to play PSO2 for the first time. Although he is humble, he can sometimes be smug when his ego is raised.
Aika Suzuki: A mysterious overseas transfer student, Aika is a very serious character that is often seen stalking Itsuki. She speaks professionally, almost militant-like, and her mannerisms are foreign. She did not know gender boundaries until she followed Itsuki into the men's bathroom in episode 2. Often seen accompanied by her rappy companion when in her battle attire.
Koa/Kota Kayano: An athletic young man that excels at karate and friend to Itsuki. He becomes thrilled when his friend suddenly starts playing PSO2. When he is roleplaying as his character in-game, Kota becomes nonsensical with his almost poetry-like way of talking.
Yumiko: Often seen paired with Last Samurai, Yumiko is a level-headed deuman that wields a bow.
Last Samurai: A serious character garbed in samurai wear. He speech is very old-fashioned.
Silva: A quiet RAcaseal that acts as the sniper of the group. In the real world, she is very much the opposite of her in-game persona.
Kid: A giant, red HUcast with a hot-blooded attitude. He favors using knuckles in battle. In the real world, Kid is an elderly gentleman with a polite disposition.
Episode List
No.
Episode title
Air date
1
The RPG That Begins with "Nice to Meet You"
January 7, 2016

Itsuki Tachibana is an ordinary high school student living a typical life. He makes decent grades, his school attendance is perfect; he is rightfully known as the "master sub." When he receives an email one day from the student council president, his life changes instantly.

2
The Aloof Warrior
January 14, 2016

Itsuki is getting used to his new role as student council vice president, and the responsibilities that come with it. Unfortunately, his reckless playstyle in Phantasy Star Online 2 starts earning him the ire of his mysterious in-game mentor, SORO.

3
Roleplay
January 21, 2016

SORO and Itsuki frequently play Phantasy Star Online 2 together, so much so that the cast suggests that Itsuki should consider "connecting with others through association." Confused that a solo player would say such a thing, Itsuki teams up with his friend Kota and a group of friendly roleplayers. Unknown to them, a troll is watching their every move.

4
Phantasy Star Offline
January 28, 2016

The biggest fan-made event of the year has arrived! Phantasy Star Festa 2027 gathers together players from Phantasy Star Online 2 together in the real world for a day of bonding and obsessing over the video game. President Rina really wants to go, so she asks Itsuki if they could go together. Once there, they meet many familiar faces; however, their appearances are nowhere near what they were expecting.

5
Aika
February 4, 2016
6
Forbidden PSO2
February 18, 2016
7
Disappearance
February 25, 2016
8
Turning Point
March 3, 2016
9
Discharge Notice
March 10, 2016
10
Vessel
March 17, 2016
11
The Dark Falz
March 24, 2016
12
The RPG That Crosses Boundaries
March 31, 2016
Development
In July of 2015, during an event in Okinawa, SEGA announced that its 2012 Free-To-Play online RPG Phantasy Star Online 2 would be getting a television anime adaption. The anime, Phantasy Star Online 2 The Animation, would have a completely new storyline and take place on Earth in the near future. It was announced that the anime would premiere sometime in 2016.
Furthermore, during the same event, SEGA revealed that Phantasy Star Online 2 had garnered over 3.5 million registered users at that time.
Gallery
Characters
Promotional
Videos
External Links