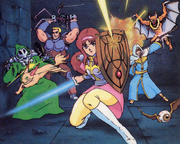 The Original Series of Phantasy Star Games consists of 4 titles:
References in other media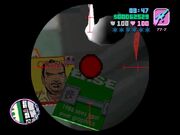 In Grand Theft Auto: Vice City there is a magazine laying on a table in Vercetti's room. On the cover is a blatant screenshot from the original Phantasy Star. Pictured is Palma's Spaceport connected to Camineet.
In Spiral Knights, a game published by Sega, there is a mission called Rise or Fall, an obvious nod to the main battle theme of Phantasy Star II.
In the same game, there is a Recon Knight named Parma, another nod to Phantasy Star II.
Once more from Spiral Knights. There is a character named Hahn who, similar to Hahn Mahlay from Phantasy Star IV, is a scholar. Besides similar job proficiencies, the two are vastly different in all other aspects which could mean that this reference is a coincidence.
Noire, a character from the Hyperdimension Neptunia series, wields a weapon called Elysdeon. Its in-game description says, "This sword is rumored to have come from a distant planet, key to fending off some legendary evil." Although misspelled, the weapon and description are both obvious references to Phantasy Star IV's Elsydeon.
Furthermore, it is worth noting that the Elysdeon weapon was made by L&L, also known as Landale and Landeel.  This references three different games in the Phantasy Star franchise: the original Phantasy Star, with Landale coming from Alis Landale's name, Phantasy Star IV, with Landale being the name of Tyler's ship, and Phantasy Star Universe, as Landeel is the name of Alfort Tylor's ship.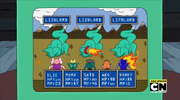 Adventure Time references the classic series as a whole in the episode "Flute Spell." Jake the Dog plays a video game called Age of Grinders, a fantasy game with a combat system similar to Phantasy Star II and IV.
In Sonic & All-Stars Racing Transformed, players are able to collect stickers by successfully completing certain in-game achievements. One sticker, called Star Phantasy, references the Phantasy Star franchise in general.
Pastel Memories features a reference to the Phantasy Star II combat system in episode 7, "Can Fighters Make Lots of Money?" In the episode, the heroes face the challenges of many old-school video game mechanics as they attempt to grind levels. Upon entering combat, the scene changes to the familiar blue grid with black background. The combat hud even has the same layout as Phantasy Star II, with the blinking red navigation button and tactical options.
Community content is available under
CC-BY-SA
unless otherwise noted.