An online database that anyone can edit, dedicated to collecting all information on the Phantasy Star role-playing video games, including the characters, locations, items, and more!
Enjoy the nostalgia for the original series, or learn more about the latest multiplayer additions to the franchise.


Warning: This wiki contains unmarked spoilers — Proceed at your own risk!
The Phantasy Star universe
Phantasy Star games
News
Sega and Microsoft Announce Phantasy Star Online 2 New Genesis Set for Release in 2021

Well, this came out of left field! Announced today during Microsoft's Xbox Games Showcase is a "brand-new title in the PSO2 series." Titled Phantasy Star Online 2 New Genesis, this new take on an old IP revamps the graphics and gameplay mechanics of PSO2, as well as the world.[1] What was revealed was an open world system akin to Monster Hunter and Final Fantasy XIV. For those of you investing in PSO2NA, fret not! The official PSO2 Twitter account has confirmed that progress will carry over to this new entry that seems to be more of an expansion than a new game.[2] More information to come as it is announced.
Watch the official trailer courtesy of IGN. Get hype, ARKS ops!
Crispix (talk) 22:05, July 23, 2020 (UTC)
Random Quote
Dairon: La di da di da, la di da di doo...
Lindow: You're humming to yourself, Mayor? That's out of character for you. Are you happy about something?
Dairon: Hah?! Oh, oh, it's you, Ms. Lindow. Please don't startle me like that.
Lindow: I am your secretary, sir. I should be by your side, always. I repeat, are you happy about something?
Dairon: No, nothing in particular. Don't let me concern you.
Lindow: I see.
Dairon: ...
Lindow: ...
Dairon: Ms. Lindow, if I may ask? How long do you intend to keep standing there?
— Mayor Dairon and his secretary,

Lindow

, banter in Mayor's Mission
Want to see another quote? Try refreshing the page or purge!
What We Need


This wiki is in need of contributors! Ever played one of the many games in the Phantasy Star franchise? Please add your knowledge!
Remember to read and abide by the rules!
Feel free to add or update whatever you feel could be improved.

For specific requests, check out the To Do section.

If you keep on editing and feel unwelcome, Sign In!! To register, just hop on the Sign up button on the upper right corner of the wiki, and the rest is up to you.
You can also hop over to the Discussion Portal and start posting. Introduce yourself if you like. If you have any suggestions on additions or changes, feel free to suggest them.
More gaming wikis on Fandom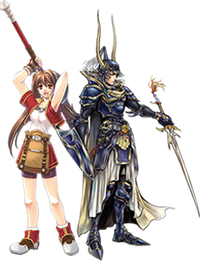 JRPG Games
Want your community included? See how!