Enjoy the nostalgia of the original series,
or learn more about the more recent MMORPG additions to the franchise.

Warning: This wiki contains unmarked spoilers!
Proceed at your own risk!

What We Need


This wiki is in need of contributors! Ever played one of the many games in the Phantasy Star franchise? Please add your knowledge!

Feel free to add or update whatever you feel could be improved.

For specific requests, check out the To Do section.

If you keep on editing and felt unwelcome, Sign In!! To register, just hop on the Sign up button on the upper right corner of the wiki, and the rest is up to you.

You can also hop over to the forums and start posting. Introduce yourself if you like. If you have any suggestions on additions or changes, feel free to suggest them.
And now here's something we hope you'll really like!
So this came out of nowhere. Who expected Sega to remember Phantasy Star in their soft launch mobile game for the western market? Although it is not yet available in the United States on iOS, this editor for one is pretty excited to give Sega Heroes a try when it is eventually officially released!
This updates gives players a chance at obtaining four characters that appeared in the original role-playing classics. Alis Landale and her mortal enemy Lassic bring forth double representation to the timeless original that started it all, Phantasy Star. Rolf represents the well-received Phantasy Star II, and the Wren here, distinguishable from his counterpart by his large build and head antennae, is known as Forren in the Japanese version of fan-favorite and arguably one of the most recognizable of the four games, Phantasy Star IV. Each characters sports unique abilities that hearken back to their original appearances in the classics. Rolf, for example, can cast his most advanced and powerful technique, Megid, while Wren is equipped with his signature Positron Bolt. Alis can cast Flaeli, known as Fire in this localization, and Lassic comes equipped with Razonde and Dark Force, an obvious nod to the original entity that corrupted him in the first game, Dark Falz.
For those that are interested or curious, check out this video by Genesis VII that takes a look at each character's abilities and assorted flavor text from the latest update!
Random Quote

"OK, Delsaber. 'Delsaber. D-Cellular Sub Lifeform. Highly intelligent. Its arms are capable of attacking and defending.' Hmm... 'When a Delsaber decides on its prey, it shows a single-minded mentality.' ! Guess this means that this creature is rather obsessive. Reminds me of an ex-boyfriend. I guess you have to be extra careful if you're the target. Man, this gives me the creeps."
— Elly reading Delsaber's entry in Calus' database at VR Spaceship Alpha
Want to see another quote? Try refreshing the page or purge!
More gaming wikis on Wikia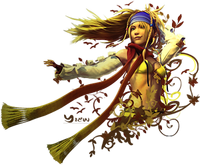 JRPG Games
Go to these sites for info or for help with your own wiki!
Aselia • Atelier • Breath of Fire • Chrono • Dinosaur King • Disgaea • Dragon Quest • EarthBound • Etrian Odyssey • Final Fantasy • Golden Sun • Hyperdimension Neptunia • Kingdom Hearts • Mana / Seiken Densetsu • Megami Tensei • Parasite Eve • Phantasy Star • Pokémon • Radiant Historia • Radiata Storys • SaGa • Star Ocean • Suikoden • Valkyria Chronicles • Valkyrie Profile • The World Ends With You • Xenoblade • Xenosaga • Yo-Kai Watch • Ys
Want your community included? See how!
See all of our JRPG gaming wikis!