Enjoy the nostalgia of the original series,
or learn more about the more recent MMORPG additions to the franchise.

Warning: This wiki contains unmarked spoilers!
Proceed at your own risk!

What We Need


This wiki is in need of contributors! Ever played one of the many games in the Phantasy Star franchise? Please add your knowledge!

Feel free to add or update whatever you feel could be improved.

For specific requests, check out the To Do section.

If you keep on editing and felt unwelcome, Sign In!! To register, just hop on the Sign up button on the upper right corner of the wiki, and the rest is up to you.

You can also hop over to the forums and start posting. Introduce yourself if you like. If you have any suggestions on additions or changes, feel free to suggest them.
Is this the beginning of a whole new world...?
Just when you thought you've seen it all. Sega teased a brand new Phantasy Star JRPG game for iOS and Android on 7/20 with its very own teaser micro site. It is very simple; very cryptic. A presumably female-looking character with horns whose face appears to be hidden beneath a knight's helm. The medallion appears to have an engraving depicting some kind of scepter. What could this possibly be? Or for that matter, WHO could this possibly be?
So many questions. Whatever the case may be, we will find out soon! The countdown timer on the site suggests more information will be revealed July 24 at 12:00 (JST). Stay tuned Phantasy Star fans!
Random Quote

"The legendary pizza that time shaped into a weapon! Enjoy! It's bombalicious!"
— Message pack inside the Coco Hut
Want to see another quote? Try refreshing the page or purge!
More gaming wikis on Wikia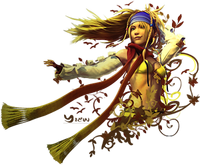 JRPG Games
Go to these sites for info or for help with your own wiki!
Aselia • Atelier • Breath of Fire • Chrono • Dinosaur King • Disgaea • Dragon Quest • EarthBound • Etrian Odyssey • Final Fantasy • Golden Sun • Hyperdimension Neptunia • Kingdom Hearts • Mana / Seiken Densetsu • Megami Tensei • Parasite Eve • Phantasy Star • Pokémon • Radiant Historia • Radiata Storys • SaGa • Star Ocean • Suikoden • Valkyria Chronicles • Valkyrie Profile • The World Ends With You • Xenoblade • Xenosaga • Yo-Kai Watch • Ys
Want your community included? See how!
See all of our JRPG gaming wikis!