Enjoy the nostalgia of the original series,
or learn more about the more recent MMORPG additions to the franchise.

Warning: This wiki contains unmarked spoilers!
Proceed at your own risk!

What We Need


This wiki is in need of contributors! Ever played one of the many games in the Phantasy Star franchise? Please add your knowledge!

Feel free to add or update whatever you feel could be improved.

For specific requests, check out the To Do section.

If you keep on editing and felt unwelcome, Sign In!! To register, just hop on the Sign up button on the upper right corner of the wiki, and the rest is up to you.

You can also hop over to the forums and start posting. Introduce yourself if you like. If you have any suggestions on additions or changes, feel free to suggest them.
Merry Christmas and Happy Holidays from the Phantasy Star Wiki!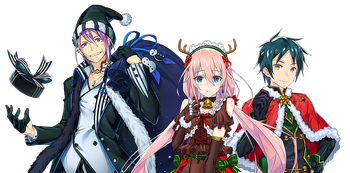 Wow, does the time fly by! We here at the Phantasy Star Wiki wish our visitors, wiki contributors, and general PS fans a very merry Christmas! The holidays are upon us once more as we approach the end 2018 and get ready to welcome 2019. Although there was arguably some disappointment in the delivery, I have to say that I think this year has been fruitful for the Phantasy Star fandom!
For the diehard aficionados paying attention during the summer of this year, who could forget the excitement that warmed our cold hearts when we were surprised with teasers for a NEW Phantasy Star game. A new game, after years of waiting since the release of the Phantasy Star Online 2 series of video games and merchandise, was promised by Sega that would return the franchise to its Japanese role-playing roots on mobile devices. A mysterious website popped up out of nowhere with a cryptic countdown ticking the seconds away to the eventual grand reveal. There was a single doodled sketch of an obscured lady hidden beneath a mask. Who was this character? Was it someone new or someone familiar? Could it possibly be Alis Landale? A relative? When would this game take place??
So many questions and no answers. It was in this moment that the fandom exploded with activity. Forums and social media began deconstructing the image and throwing out potential theories. Over time, the image started changing; the lady was slowly removing her mask and more of her features could be discerned as we approached the end of the timer. Of course we know now that this game would not be a continuation of Alis' legacy but the birth of a new world. On July 23, 2018, Idola: Phantasy Star Saga revealed itself and it was slated for a 2018 release. And boy, I am sure Sega did NOT expect that backlash. The reveal trailer was universally panned with an insane downvote-to-upvote ration. The official Sonic the Hedgehog English youtube channel replied with a wide-eyed reaction face in the video's comments (although they later edited their message to say they meant to express excitement). The Happy Console Gamer, known for his general gaming enthusiasm and a hardcore classic fan, was visibly deflated in his reaction video.
It was bad. But despite the negativity, Sega continued to hold their ground. They worked on the game as planned. This game was meant to welcome new, fresh blood into a fandom that was becoming complacent with the online RPG Japanese-only status quo. This game was promised to have its own identity and not be tied down to an existing series (although they did say that it would have elements of PSO2. Hmm...). In my personal opinion, I think the game isn't bad. Was it a slap in the face for being a 30th anniversary game? Yes. But it is not bad. I think it deserves a chance, and it is a decently fun action game for mobile phones. It may be worth it to keep an eye on Idola for now.
Besides that, what else did the fandom get this year? I'm glad you asked! Sega soft released a mobile puzzle game in certain territories that was eventually made available worldwide called Sega Heroes. In this game, you can play as timeless heroes such as Alis Landale, Rolf, Phantasy Star IV Wren, and the malevolent Lassic. Yes, they are still distancing themselves from the black sheep of the series but I have hope that they may update more characters into the game eventually! Genesis VII made an excellent video that went over Phantasy Star character profiles when they were initially released. Let's not forget that the very much anticipated remaster of the original Phantasy Star was released to the Switch market apart of their SEGA AGES line of classics. Not only is it faithful to the original localization, but it also has interesting quality of life functions. A glossary, expanded HUD with character status, a map tracker in dungeons so that players do not need to break out the graph paper. It is phenomenal and I highly recommend it. It is well worth the $7.99 (USD) to relive the magic that birthed this franchise into existence.
Anyway, I think I have rambled on enough. Take care everyone, and enjoy the holidays! May the new year be even sweeter than before!
Random Quote
Secretary: Good job. Congratulations on a job well done! Please accept your commission fee of 2000 meseta. Please come again to the Hunters' Guild where we enrich the lives of hunters!
Chaz: That was one interesting dog!
Rika: Perhaps... there's a trait that he has in common with you!
Chaz: Don't be ridiculous!
— Chaz and Rika banter after completing Tinkerbell's Dog
Want to see another quote? Try refreshing the page or purge!
More gaming wikis on Wikia