---
This article is missing some information and requires cleanup. You can help Phantasy Star Wiki by improving it.
---
---
SPOILER WARNING
This section contains plot or ending details which could spoil the game for those who have not completed it.
SKIP SPOILERS SECTION
---
Itsuki Tachibana (Japanese: 橘 イツキ), is a male who attends Seiga Academy, a Japanese high school and brother school to Tensei Academy, in the year 2027.
Personality
Itsuki is a rather outgoing and sociable high school boy. He is shown to be quite helpful and supportive of others, easily adapting to the chores of the student council. Although, Itsuki can at times be headstrong and single-minded, being too absorbed in what he is doing to notice others or the situation around him.
History
Itsuki is an average high school student with good grades but is also quite athletic. And as a very ordinary student, he lives an ordinary high school life.
Itsuki began attending Seiga Academy in his second year of high school. Shortly after his second year begins, Itsuki is suddenly appointed the student council vice president by the universally loved student council president Rina Izumi. As such, Itsuki is ordered by Rina to investigate the influence of the popular online game "Phantasy Star Online 2" on the students' studies.
Thus, Itsuki follows Rina's command and begins playing PSO2. He creates an avatar naming it Itsuki and despite being randomly generated, it bears a striking resemblance to his real-life self. During his time playing PSO2, he slowly learns more about the game with the help of his friends and veteran player, SORO.
Powers and abilities
Itsuki has a high ether potential and is capable of directly diving into Phantasy Star Online 2. Itsuki's powers develop far enough for him to manifest an Embodied Form.
Itsuki's Embodied Weapon is the Radiant, a powerful gunslash imbued with his own ether, that is capable of long and close range combat.
Transformations
PSO2 Avatar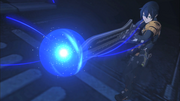 Itsuki plays as a Hunter in PSO2, with his subclass being Braver. His Embodied Form also used the same main and subclass. His avatar is virtual and doesn't actually exist outside of his PSO2 game, but it does manifest physically in the universe the ARKS inhabit when he plays PSO2.
Embodied Form Itsuki's Embodied Form grants him increased strength, durability, and speed. His Embodied Form allows him to fully utilize his Embodied Weapon beyond his normal human limits.
Phantasy Star Online 2 es
Itsuki Tachibana has his own set of obtainable chips in Phantasy Star Online 2 es.
Trivia
Itsuki's PSO2 avatar wears the Close Quarter costume.
Gallery
References & Notes
Community content is available under
CC-BY-SA
unless otherwise noted.