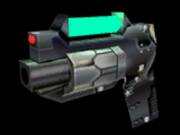 Handguns are the most basic Ranger weapon, although they can be used by any class with enough ATA to equip one. They have a moderate attack range and fire photon bullets relatively quickly, enabling a hunter to strike at a distance; an invaluable tactic.
Handguns are often carried by Hunters as a complement to a melee weapon. Rangers may carry a handgun for quick attacks, although the variety of weapons available to Rangers negates many of the advantages of handguns save attack speed. Forces may carry a handgun as a backup, in order to be able to strike from a distance without using valuable TP.
Standard Handguns
All Rangers start with a basic handgun. The autogun is the next strongest version and is the weapon of choice for medium level rangers. It is has a fast rate of fire and is useful for taking out single units. The next most powerful - the lockgun - is mostly used by medium level characters and can be mostly be found on Hard difficulty.
| | | | | | | | | |
| --- | --- | --- | --- | --- | --- | --- | --- | --- |
| | Stars | Grind | ATP | DFP | MST | ATA | EVP | LCK |
| Handgun | | | | | | | | |
| Autogun | | | | | | | | |
| Lockgun | | | | | | | | |
| Railgun | | | | | | | | |
| Raygun | | | | | | | | |
Rare Handguns
9

★

Rarity
10

★

Rarity
Ophelie Seize

Red Handgun

Supressed Gun

Yasminkov 2000H
11

★

Rarity
Handgun:Guld

Handgun:Milla
12

★

Rarity
Heaven Punisher

Heaven Striker

S-Rank Gun

TypeGU/Handgun

TypeGU/Mechgun