HUmar is a character class in Phantasy Star Online and Phantasy Star Zero. Characters in the HUmar designation include a Hunter, a type of class that specializes in melee combat, that is both human and male.
Ash Canaan is the default HUmar in Phantasy Star Online. Although there are no famous template characters in Phantasy Star Zero, Kai is a major story character apart of the HUmar class.
Phantasy Star Online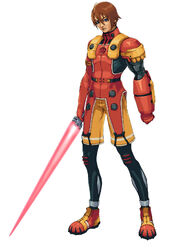 The HUmar is a melee class that boasts the most balanced growth per level in Phantasy Star Online and is therefore considered one of the easiest classes to pick up for newcomers to the series. A jack-of-all-trades, HUmar have the ability to cast certain techniques, however, they are unable to strengthen them beyond level 15. Techniques that are unlearnable include Shifta, Deband, Grants, Megid, and Reverser.
HUmar are able to wield a variety of weapons that each have their own uses depending on the situation in combat. These generally include: Sabers, Swords, Daggers, Partisans, Slicers, Double Sabers, Katanas, Claws, Twin Swords, Fists, Mechguns and Handguns. It is important to note that certain special weapons can only be wielded by specific gender and class combinations.
Material max
Materials are rare items that can potentially be found in each field. Upon using them, a particular stat will be boosted slightly.
Technique max
Phantasy Star Zero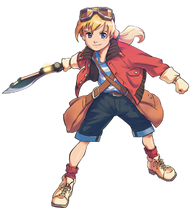 HUmar are a melee class in Phantasy Star Zero. While they specialize in close-range combat, they can also learn a handful of techniques to assist them in battle. Techniques that are unlearnable include Jellen, Zalure, Grants, and Megid.
Weapons that HUmar typically wield include Swords, Sabers, Spears, Daggers, Double Sabers, Shields, Gun Blades and Claws.
HUmar can use a maximum of 100 materials total.
Technique max
HUmar can utilize the following techniques up to a maximum of level 10.
Gallery
References in other media

In Sonic Adventure 2 for the Dreamcast, players were able to unlock a multiplayer exclusive costume worn by Sonic by collecting all of his emblems in the game. It depicted the hedgehog in the default HUmar outfit that Ash wears in Phantasy Star Online.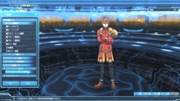 Community content is available under
CC-BY-SA
unless otherwise noted.