---
This article is missing some information. You can help Phantasy Star Wiki by expanding it.
---
"I'm Glustar. I'm part of your team starting today. You don't like betting, do you? Just out of curiosity. Hey, hey, you don't need to get all worked up like that. Life's just one big gamble, after all. You have your good days and your bad days. Sometimes you get lucky and end up with a good commander, and sometimes you end up with a totally useless one. So, basically, what I'm trying to say is, how about we play a little dice game? We have to celebrate your new position, right? Come on. I'll keep the stakes low."
— Glustar introducing himself to the Commander in Tier 8.
Glustar (Japanese: グルスター) is a character in Phantasy Star Online Episode III C.A.R.D. Revolution. He highly enjoys gambling and will do whatever is necessary in order to acquire meseta for his own ambitions.
Glustar joins the Hunters C.A.R.D. Lab alongside his partner, Stella, after the Commander successfully completes Development 1.
Characteristics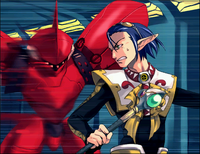 Appearance
Glustar is a FOnewm that wears a yellow and white uniform with red trimmings and black underclothing. He has a light complexion, forest green eyes, and dark blue hair accented by a pair of yellow tinted glasses that hang loosely over his head. His assigned section ID is Yellowboze.
Powers and abilities
Glustar is a pure Force character, a term used to denote a magic user in the Phantasy Star Online world. Although Glustar can potentially utilize his single point in attack power in order to defend himself up close if the need arises, the FOnewm truly shines when he can utilize his 3 TP in order to cast powerful techniques against his foes from afar with the aid of magical canes. The 3 stat in Move allows the newman free reign on the field in order to position himself accordingly.
C.A.R.D. information
Glustar's character card can be viewed below. Top color is red. The combo colors on the right of the card are blue, red, yellow, orange, and purple.
Card #

Picture

Resistance color

Combo color left




Cost




Combo color right

Rarity

HP

AP

Range

Name

TP

MV

N/A

▬▬▬▬


Glustar

●●●●●●●




▬

▬

▬

▬

▬

N/A
+0
1
3
3

———————————Single target attack
H FOnewm
Force
Newman
Quests
Although Sil'fer, Kranz, and Ino'lis are the main characters in the Hunters story arc, Glustar makes an appearance within a few different quests and occasionally speaks. The quests that he appears in are as follows. If he has pre-quest dialogue during the tier, it will be noted on the main story quest entry.
Gallery
References
Community content is available under
CC-BY-SA
unless otherwise noted.