---
This article is a stub. You can help Phantasy Star Wiki by expanding it.
---
"Do you truly despise the Arkz? Surely not. The Arkz are only fighting to correct the despotic government. Take a moment to think about which side really stands for justice. And... Take a moment to think about what's really best for you."
— Creinu attempting to recruit Ino'lis
Creinu (Japanese: クレイヌ) is a character in Phantasy Star Online Episode III C.A.R.D. Revolution. She is a member of the Arkz anti-government organization.
She has been with the establishment since its inception, and even has important connections with Arkz' top investor. Due to her extensive knowledge of the Arkz and Pioneer II's underground operations, Creinu is likely either affiliated with or part of Black Paper.
Gallery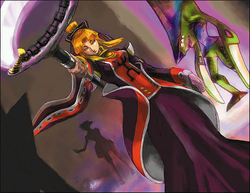 The Phantasy Star wiki has an extensive image gallery for this character.
Community content is available under
CC-BY-SA
unless otherwise noted.