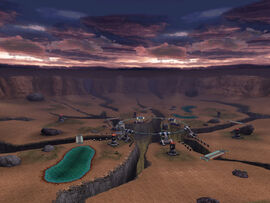 The Crater is the first area featured exclusively in Episode 4 of Phantasy Star Online: Blue Burst. When a mysterious comet crashes into the surface of Ragol forming an unknown crater, research teams abruptly begin studying the site. Now, the Principal once again requests the assistance of the player to explore the crater, find the researchers that have recently gone silent, and survey the unknown creatures inhabiting the area.
Layout
Similar to the Central Control Area from the previous episode, the Crater is split into several different areas, including the Eastern, Western, Southern and Northern Routes which eventually lead into the Crater Interior. Although these are the designated routes the player must take in the story, the Blue Burst expansion is unique in that all areas are initially unlocked. This means that the player can explore to their leisure if they are playing solo, non-story campaigns or multiplayer runs.
It is also worth noting that the Crater is the only area in Phantasy Star Online to not have a boss.
Local Creatures
Boota

Ze Boota

Ba Boota

Satellite Lizard

Yowie

Sand Rappy

Del Rappy (rare)

Astark

Zu

Pazuzu

(rare)

Dorphon

Dorphon Eclair

(rare)
Quests
Gallery