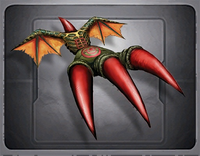 Claws are Hunter weapons that, as their name implies, resemble large claws.
Claws are single target weapons with unique attack animations compared to katanas and sabers. Although some are held on a single hand, such as the Photon Claw, others are a pair of claws that rest on each hand similar to a fist.
The information presented at a glance in the charts below are stats from Version 3+, which includes the GameCube, Xbox, and Blue Burst editions. For earlier versions and more detailed information about the weapons themselves, visit the weapon's page.
Rare Claws
9

★

Rarity
Image
Name
Rarity
Req.
ATP
DFP
ATA
MST
EVP
LCK
Max Grind
Special
Booma's Claw
9

★

300 ATP
330-345
0
48
0
0
0
15
X
Panther's Claw
9

★

412 ATP
♀ only
180-280
0
38
0
0
0
0
Chaos

Photon Claw

9

★

300 ATP
230-300
0
48
0
0
0
20
Drain
10

★

Rarity
11

★

Rarity
Image
Name
Rarity
Req.
ATP
DFP
ATA
MST
EVP
LCK
Max Grind
Special
Nei's Claw (real)
11

★

900 ATP
756
0
60
0
-20
0
0
Spirit
12

★

Rarity
Image
Name
Rarity
Req.
ATP
DFP
ATA
MST
EVP
LCK
Max Grind
Special

ES Claw

12

★

800 ATP
180
0
55
0
0
0
250
Varies

TypeCL/Claw

12

★

350 ATP
170
0
55
0
0
0
125
X