"Body part of an enemy. It is said that someone can turn it into a weapon."
— In-game description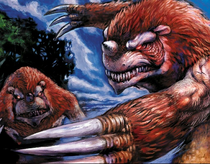 Booma's Right Arm is a monster part that can rarely be obtained as a drop from Booma in Phantasy Star Online. As the difficulty increases, so too does the item's drop rate. This item can be obtained by every section ID on normal, hard, and very hard difficulties. It cannot be obtained in ultimate because Booma is replaced by Bartle on that difficulty.
After completion of the Unsealed Door quest on any difficulty, Booma's right arm can be taken to Doctor Montague to be crafted into the Booma's Claw weapon.